Aug
1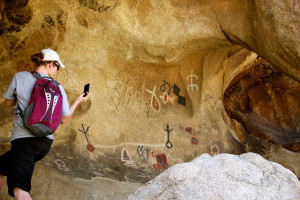 The Pictograph Cave located in Billings, Montana offers a unique experience for tourists. The cave is on a 23 acre plot of land and holds three sets of caves, including Pictograph Caves, Ghost Caves, and Middle Caves. The MT attraction is located approximately five miles south of the city.
In the 1930s, excavation began in the caves and it is noted this area is one of the first areas of professional studies by Montana archeology specialists. Artifacts have been discovered totally over thirty thousand. Two thirds of the artifacts recovered include bison, elk, reptiles, amphibians, and birds.
Pictograph paintings are still visible within the Pictograph Cave. The interpretations of these paintings are still debatable by those who specialize in interpretation. The paintings include pictures of different animals, humans (including warriors), and various rifles.
In 1964, the caves were designated as National Historical Landmarks. The caves heavily document the story of Native American history, dating back thousands of years. Pictograph Cave State Park features a variety of trails, picnic areas, and a visitor center for convenience.
Montana is a wonderful place to take vacation and offers many attractions, such as Pictograph Cave. This one attraction alone is a great family activity for every member of the family. If you enjoy studying history and seeing new things, consider a visit to Billings, MT. A unique experience awaits you with hundreds of things to do!
Photo Information: This photo is provided by and given credit to David Fulmer – on Flickr.com with permission via Creative Commons Licensing.
Jul
17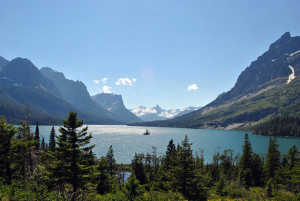 The Wild Goose Island in Glacier National Park is a photographer's dream. The island is one of the most popular places in the area which photographers love to gather and take photographs. Wild Goose is actually located in the middle of St. Mary Lake.
As the seasons change, the view also changes. During winter time, snowcapped mountains abound. During the warmer months, the scene provides more warmth provided by the sun. During the proper season, wildflowers dance in the wind sporting their purples and pinks on the background of deep greenery.  
As seen, there is a small island between the pictured shores. Historically, there were two different tribes which once resided on each side of the lake. Although, there was not any direct conflict between the two tribes, they avoided contact with each other in the earlier years.
Wild Goose is named due to a warrior from one tribe meeting a maiden swimming from the other tribe. The two became betrothed although in the beginning there was resistance from both tribal families. The folklore spoken of this story provides the Great Spirit overseeing them and transforming the lovers into geese mating for their lives being forever together.
This unique Montana attraction is a must add to your list of places to visit in the area whether you are a photographer, or a tourist. The island is exquisite and amazingly awesome!
Have you visited the area and seen Wild Goose Island? Did you love the view you beheld? What season did you travel to the area? Please let us know here on the Big Sky Blog!
Photo Information: This photo is provided by and given credit to Steve Loco – on Flickr.com with permission via Creative Commons Licensing.
Jul
15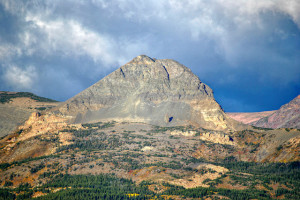 During visits to the Glacier National Park, one can take in all the beauty within the area. One such view includes Squaw Mountain as seen by Loco Steve during his stay at one of the parks hotels. Squaw Mountain is also known as Old Squaw.
The east glacier in Montana is amazing and mind boggling to those new to visiting Glacier National Park. Research places this mountain just south of the Echo Mountain Skiing Area. The summit of the mountain is a prominent ridge which runs from SE to NW for approximately one half mile.
There are also separate summits seen near Squaw Mountain giving the appearance of a tower. A viewing area is available for those who dare to climb the stairs to the top of the towering rocks. The advantage of taking the challenging climb is the ability to see a panoramic view to the north, south, east, and west.
For visitors who desire an easier way up Squaw Mountain, a gravel service road is an available option for tourists. Camping is allowed near the Squaw Mountain area. Places to hike are prevalent in developed areas. Lakes and waters are near within a few hundred feet as well.
Photo Information: This photo is provided by and given credit to Loco Steve – on Flickr.com with permission via Creative Commons Licensing.
Jul
14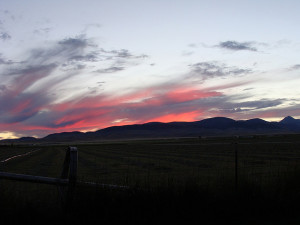 Montana provides many opportunities to visitors including discovery. Natural history is present all throughout and many places in Montana offer scenic views to behold. One must see the area to truly appreciate it.
Natural history museums are available within the state of Montana including the Montana Natural History Center located in Missoula, MT. The center offers special programs, summer camps, discovery days, and night time lectures.
Admission to the center is really inexpensive for the family. Adult's admission is only $2 and children's admission is $1. The maximum amount requested from family is $6. The Montana Nature History Center is open on Tuesdays through Saturdays.
Plan to discovery all MT has to offer by visiting cities such as Missoula and taking advantage of all the state has to offer. There are hundreds of activities available and places to see, if not thousands. Lodging is available by way of hotels, cabins, camping sites, RV sites, and more!
Discover and experience Montana at its best! It is one of the most beautiful places to visit during different seasons of the year!
Have you visited Montana Natural History Center? What did you discover during your visit? Please leave your comments below on the Big Sky Blog. We would love to hear from you!
Photo Information: This photo is provided by and given credit to Marin LaBar – on Flickr.com with permission via Creative Commons Licensing.
Jul
3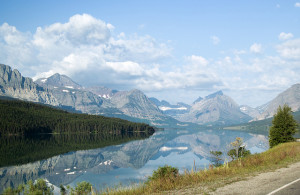 Lake Sherburne is located within the scenic Many Glacier Valley in Montana. The lake area offers many Montana tourists a spectacular view of the mountains mirrored on the waters. This MT lake is not naturally made but is considered a reservoir from waters regulated at Swiftcurrent Creek.
Since Lake Sherburne is a reservoir, the water levels may fluctuate through the year. During the summer months and dry season, the water levels can be low to very low. When the lake is at normal levels, it will stretch a span of approximately three miles.
Fishing is allowed at Lake Sherburne but there are not boat ramps, so those interested in fishing must park road side. Access to the lake is still fairly easy for those interested in the sport. The lake is known for holding trout (brook) and pike (northern).
From a photographic perspective, Lake Sherburne at the right time is a beauty to capture as seen in the photograph provided with this post. Driving scenic tours while visiting in Montana should definitely include this area. Stopping road side is permitted and many visitors take a few minutes to walk to the lake side.
Have you drove through this scenic area in Montana? Did you enjoy the view of the mountains on the waters of the lake? Please leave your comments on Big Sky Blog and let others know of your experience!
Photo Information: This photo is provided by and given credit to Steve – on Flickr.com with permission via Creative Commons Licensing.
Jul
1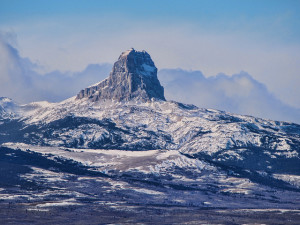 Montana's Old Chief Mountain is known as one of the most prominent rock formations along the Rocky Mountain area. Viewing Chief Mountain is a sight to see when visiting the state of Montana. The elevation of the peak is over nine thousand feet. The prominence is measured at a little over eighteen hundred feet.
Chief Mountain, also known as Old Chief Mountain, is located in Glacier County along the Lewis Range. In 1892, the first ascent was taken by Stimson. Climbing the mountain is the easiest route to take while ascending the rise although the mountain holds poor anchoring points.
This Montana Mountain is also one of the most photographed mountain in the area. This is primarily due to its unique and unusual peak. Upon the creation of the Glacier National Park, the mountain on the eastern slopes were located within the park area.
The Native American consider the mountain to be sacred ground and they have held this view for hundreds of years.  Sweet grass ceremonies and prayer rituals take place at the bottom of the mountain from Native Americans traveling from near and far.
Have you seen the Old Chief Mountain first hand? What were your first impressions on the prominence? We would love to hear your comments here on the Big Sky Blog!
Photo Information: This photo is provided by and given credit to Steve – on Flickr.com with permission via Creative Commons Licensing.
Jun
29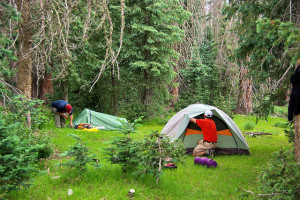 Montana State is a great place to go camping with the family, or individually. There are a variety of state parks within the state which offer great options for getting away. The outdoors allows for families to take the time to bond with nature and gain new experiences.
At least twenty state parks in Montana offer campsites which can be reserved. The state holds approximately fifty-four state parks in total. Camping sites can be booked in advance before visiting the area. Most reservations are available starting toward the end of May through September.
Families and individuals interesting in making advanced reservations will find most MT camp sites will allow bookings to be made up to nine months ahead of time. Reservations for many of the state park campsites will also allow a short time to reserve up to two days in advance.
Internet booking is provided through the Montana State Park website. Reservations can also be made by phone (855-922-6768). The reservation center is open seven days a week to receive your calls. For more information, please contact Montana State Parks.
Montana offers many camping options including allowing reservations as well as walk up camping options. MT has a lot to offer the family in addition to camping. Hiking is a great stress reliever and site seeing is available along with other family activities. MT is a wonderful place to spend time with those special loved ones!
Photo Information: This photo is provided by and given credit to Alan English – on Flickr.com with permission via Creative Commons Licensing.
Jun
22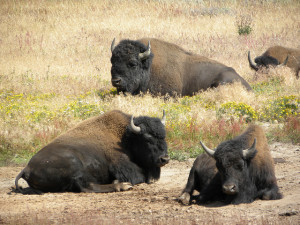 Yellowstone National Park is known at the Wonderland. The Montana National Park holds the majority of the geysers in the world. They are carefully preserved and are the main reason the park was established in the 1800s.
Yellowstone is actually the first national park to be created and is home to many wildlife animals including bears, bison, wolves, elk, and more. The natural habitat is a wonderful place to see throughout the warmer months of the year. The ecosystem of the park is nearly intact in natural form.
A portion of the national park resides in Wyoming as well as Idaho, but also stretches into Montana. The park is home to Old Faithful Geyser, which is a popular feature for many visitors to see. Yellowstone stretches over 3400 square miles. There are also lakes, rivers, canyons, and plenty of mountain ranges.
Hundreds of mammals, fish, birds, and reptiles exist in this Montana location. Some of them are even considered endangered, or on the threatened list. The area is also full of foliage, plants, grasslands, and forests.
Planning a trip to Montana to Yellowstone National Park is a great choice for individuals as well as family members. Groups of various organizations or like interests also take time to see the national park. Montana is home to some of the most popular attractions in the world!
Photo Information: This photo is provided by and given credit to lubright– on Flickr.com with permission via Creative Commons Licensing.
Jun
20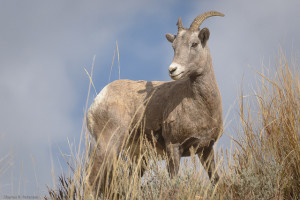 The Bighorn Sheep were once close to extinction, but due to community efforts visitors to the Montana area will see populations of the species. The wildlife creatures are considered as mountain sheep although their status is still questionable. Several species populations within the animal kingdom are considered endangered.
Montana's Bighorns are male and females, both having horns. Although, the female's horns are less curved than the males. The animals range in different colors including brown, light brown, gray, and even dark chocolate color. This animal can weight around 75 to 325 pounds in weight.
Tourists in the MT mountains and surrounding areas are sure to see Bighorn sheep if they are paying attention while visiting inhabited areas. They will typically be seen grazing on the grasslands and even be searching out shrubs. They also desire natural salt licks while seeking needed minerals.
Typically, Bighorn Sheep are seen in larger flocks. The animals do not tend to follow one leader but do move in herds. These animals are highly admired by the Crow people and mountain ranges have been named after the sheep.
Photo Information: This photo is provided by and given credit to Charles Peterson – on Flickr.com with permission via Creative Commons Licensing.
Jun
19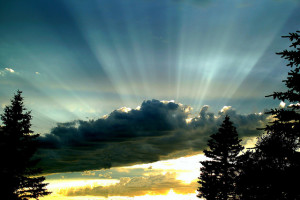 Montana is a great place to visit during different seasons of the year, but during July and August the temperatures average in the 70s and low to mid 80s. This time of the year is great to visit the area and really see the area at its best.
July and August are great to take walking tours in Montana, as well as take time to camp with the family. During this time of the year, MT has clear skies and many breathtaking views to behold. Precipitation during these two months is also typically less than one and half inches.
Summertime in Montana is a great time to experience the cowboy lifestyle, visit attractions, enjoy the great outdoors and do water sports such as fishing. This time of the year it is also an convenient time to take road trips through different parts of the state. One example is driving through Beartooth pass; another option is visiting the national parks.
Are you planning a summer vacation in MT? What are you planning on seeing while you are in the area? Will this be your first trip to the area, or a repeat trip? We would love to hear your plans and suggestions here on the Big Sky Blog!
Photo Information: This photo is provided by and given credit to Isolino Ferreira– on Flickr.com with permission via Creative Commons Licensing.