Jan
23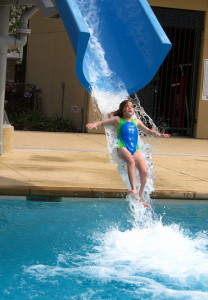 Located in Playfair Park on the southern portion of the city, Splash Montana is the newest water park in Missoula. The outdoor water haven which was opened in June 2006 has turned out to be one of the most popular destinations in the region during summer. Splash Montana presents to you all the water fun you would want to have along with your entire family, right from infants to the older generation.
Splash Montana has in store three exhilarating three-story waterslides. There's a lazy river float-way with a wild river branch which is pleasing to many visitors. Along with the lazy rivers, a number of water spray structures, the amazing Grizzly slide and floating play structures including a log walk, a floating otter, and a water snake, all of which are enjoyable water fun.
There are plenty of lounge chairs, sun shades, two party shelters and the Crazy Creek Café to assure a perfect summer holiday atmosphere. A 50 meter pool named The Lake with 50 meter and 25 yard lap lanes offers water-fun games like water volley ball, water polo, and even basketball.
Children love Splash Montana for the amusing play area that it has at their service. The widespread area with a zero-depth entry allows the children to gradually walk in, just like one does at the beach. The young enjoy this feature and adults feel relaxed knowing there's no safety deficit in the area.
In addition, Splash Montana offers facilities like coached lap swimming, inner-tube water polo leagues and value nights for family adults and family members. There are unique occasions offered such as Tube Bowl Tailgate Parties, Friday play-dates and ice cream socials, which occur at different times of the year.
There are various ranges of entry fees according to age groups but none of these stand expensive. So, there's no reason to abstain from travelling to this amazing water world of Missoula, Splash Montana! It will provide a nice time of water fun for the family!
Photo Information: This photo is provided by and given credit to S Reilly – on Flickr.com with permission via Creative Commons Licensing.
Jan
21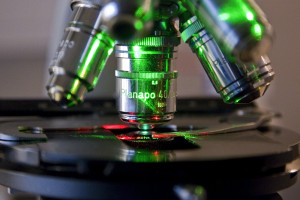 Launched in October 2007 by Dr. Charles Thompson, spectrUM Discovery Area is Missoula's, and perhaps also Montana's, biggest and best storehouse of science for you, your family and your friends. It is located in the Skaggs Building which belongs to the campus of The University of Montana in Missoula, Montana. It stands as evidence to the university's core goals of highlighting science education to a great extent.
If you are a science-enthusiast who wants to see, hear, feel or even taste science, spectrUM Discovery Area is the perfect place for you and your family to take a trip to. The science museum differs from other ones of its kind by focusing on hands-on activities and demonstrations along with exhibits rather than just focusing on the latter. Whether it is neuroscience or health science, nanotechnology or motion, urban ecology or river dynamics, spectrUM Discovery Area's interactive approach makes your favorite science come to life.
Other than its in-house programs, spectrUM Discovery Area offers travelling campaigns with exhibits and activities at a variety of places, some of which you might have never predicted. These locations include restaurants, parks and festivals throughout the state of Montana. The center also has a website that offers online science experiments and knowledge for curious minds. With both its museum and mobile programs, spectrUM Discovery Area serves over thirty nine thousand people each year.
If you desire to visit spectrUM Discovery Area, there is no need to worry about lodging as there are plenty of options to choose from. There are about twenty hotels within a range of 0.5 to 5 miles from the University of Montana in Missoula. These are located on the north side of the Clark Fork River whereas the university is located on the south bank. So, don't wait any further, work with your schedule, find time and visit the amazing home of science, the spectrUM Discovery Area! It is sure to please all who visit!
Photo Information: This photo is provided by and given credit to Bryan Jones – on Flickr.com with permission via Creative Commons Licensing.
Jan
19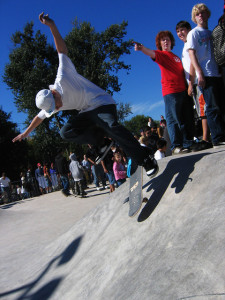 With an area of fifteen thousand square foot, MoBASH Skate Park is located in McCormick Park just across the Orange Street Bridge from Missoula city center. One of the newest attractions of the city took a six year time from its birth as a dream of three skateboarder buddies Chris Bacon, Andy Kemmis and Ross Peterson in the year 2000 to its transformation into reality with the end of construction and opening in September, 2006 by Tony Hawk's production company.
The skate park made history with its grand opening which was attended by over ten thousand people, the largest mass gathering in the history of Missoula for the opening of a facility. That was just the beginning of the skate park's glory! According to Thrasher Magazine, MoBASH Skate Park is not only the best skate park in the entire Montana, but also one of the top five skate parks of the United States today.
If someone loves skateboarding, he or she can't stop loving MoBASH Skate Park as it provides huge heap of skateboarding facilities. The skate park is full of bowls, bank walls, terraced inclines and a whole lot of rails to ride. What else does a skateboarder wants?
Apart from being a skate enthusiast, if someone is a food enthusiast as well, that person is also going to love MoBASH Skate Park! Food places like La Parilla, Dinosaur Café, Taco Del Sol, Missoula Club and Old Post Pub are in a walking distance from the skate park.
There are shops like Edge of the World and Premier in the skate park's neighborhood. So, if you love skateboarding, get your bag packed and set out for Missoula's MoBASH Skate Park.
Photo Information: This photo is provided by and given credit to Cole – on Flickr.com with permission via Creative Commons Licensing.
Jan
16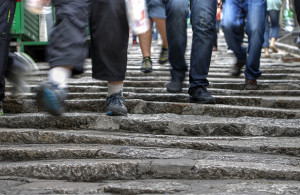 Being the home to a number of historical places, Missoula is no less than a museum itself! This is what makes Missoula a darling city to the history enthusiasts. Missoula Historic Preservation Commission recognizes the city's assets from the past and has planned a walking tour so that you don't miss out any of these epic structures.
Missoula Historical Preservation Walking Tour comprises of fifteen unique historic locations. Start with the first steal framed skyscraper of Missoula, known as the Wilma Building of South Higgins Street. The building was constructed in the year 1921. Then there's the Missoula Mercantile of North Higgins Street which was constructed from 1882 to 1891. Hardly any mercantile enterprise between the Twin Cities and Seattle is as gigantic as Missoula Mercantile. The next historic location in your walking tour is the construction of 1941, the Florence Hotel, occupying the same site where two of the previous hotels of the same name which burnt.
Now, the walking tour shifts from North Higgins Street to West Front Street where you will find three historical sites; Headquarters Building, Gleim II Building and Gleim Building. The first one, termed as 'An Ornament to the Street', was erected in 1888. The second and the third were put up in the 1890s, the initial of which was a brothel owned by Mary Gleim and the latter was her headquarters.
Next in the famous walking route is the Studebaker Building of West Main Street, followed by Palace Hotel and Missoula County Courthouse, both along the West Broadway Street. The West Main Street site is the oldest automobile garage of Missoula constructed in early 20th century which is full of history. The first of the West Broadway sites was raised in 1909, known as the Savoy Hotel at that time. The last one is a Neo-classical style sandstone Courthouse constructed in 1910.
The walking tour route takes you back to North Higgins Street where you will find two more historical sites, Simons Block and Higgins Block. The first one was built in 1899 and named after the business tycoon of that time, Louis N. Simmons. The second one was built in 1889 and was named after the co-founder of Missoula, C.P. Higgins.
Now, you have to walk through the East Broadway Street where you'll get to see Beaux Arts Style building of 1909, the Masonic Temple, followed by the Italian Renaissance Revival architecture of early twenty first century, the U.S. Post Office and Federal Building. Each monumental construction brings much to the history of the area.
The final two historical sites in the touring route are Northern Pacific Railroad Depot of Railroad Street and St. Francis Xavier Church of West Pine Street. The Railroad Street building was constructed in the Renaissance Revival Style in the year 1901. The church construction was completed in 1892 with interior murals painted by Brother J. Carignano in 1990s.
Visiting the church as the last milestone of the walking tour will not only refresh your heart with spirituality, but also with its captivating artistry. Wherever you dwell, if you love history, come and take a walking tour around Missoula, the store house of unique historical sites!
Photo Information: This photo is provided by and given credit to Peter Thoeny – on Flickr.com with permission via Creative Commons Licensing.
Jan
14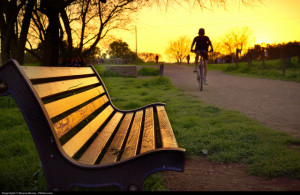 Whatever be your location within the entire city of Missoula, you can be well-assured to the fact that there's at least one of the many city parks at a walking distance. The numerous city parks in Missoula occupy in total a huge 400 acres of the city's land. There are more than twenty thousand park trees in these city parks.
The first city park in Missoula, Greenough Park, was created in 1902 out of the 42 acres donated by Thomas Greenough. The park is located along the Rattlesnake Creek. The second one, Bonner Park, was created in 1924 with the donated property of John L. Bonner close to the University of Montana. Today there are a quantity of grounds and courts for athletes along with a band shell which the Missoula City band utilizes throughout the summer.
Along each of the two banks of the Clark Fork River, there is a park in Missoula. In the northern bank of the river, Kiwanis Park is situated which was produced by the Kiwanis club in 1934. In the opposite bank, there's the McCormick Park occupying 26 acres of land. The park land was donated by Washington J. McCormick and his better half while the funds were provided by Works Progress Administration. McCormick Park holds an aquatic center, a skate park, a children's fishing pond and a free bike check-out.
Another popular city park of Missoula is the Caras Park of Higgins Street. It is located south the Wilma Theatre. The Park is the venue of a number of festivals and big events in Missoula like the Out to Lunch program, the famous International Wildlife Film Festival, widely known First Night Missoula and the Garden City BrewFest. A Carosel for Missoula and Dragon Hollow are located in this city park which draws many.
Jacobs Island Bark Park, Memorial Rose Garden and Playfair Park are among the other popular city parks in Missoula. Missoula city parks not only offer access throughout the city, but also a wide variety of recreational prospects. So, visit Montana in the Missoula area and its municipal parks, plethora and variety will refresh your soul!
Photo Information: This photo is provided by and given credit to Moyan Brenn – on Flickr.com with permission via Creative Commons Licensing.