Feb
27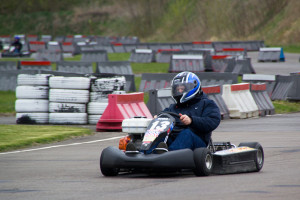 Located along the Expressway Street of Missoula, The Hub stands as one the most popular family entertainment centers of the entire city. It is a fifty thousand square-foot construction with known for the variety of fun games it offers the visitors along with the delicious food and marvelous party facilities.
Visitors of all age can enjoy go-kart racing at the Indoor Go-Kart Track with Junior and Adult Go Karts. The battery-operated Go-Karts can speed up to 32 miles per hour. However, Junior Go-Kart racers must be four feet tall while in the case of Adult Go-Kart racing, minimum eligible height is four feet and ten inch. The Hub also hosts a special go-kart racing event named Hub Cap Racing Leagues at both adult and junior levels.
The pricing of Go-Kart racing isn't much at The Hub. It stands different for adult and young visitors as well as for single race and three races. The Hub offers quite a few packages as well, including Buy 2 Get 1 Free, Lunch Hour Special and Ladies Night Friday's packages; each of them provide a certain discounted price at particular sections of time.
There's a fifty five hundred square-foot multi level Laser Tag arena at The Hub for the visitors with a height of at least 4 feet. It appears to be a high speed high tech game of tag and fun for kids, youngsters and adults, which can afford more than a couple of dozen players at a time. The Hub also provides interactive and ticket redemption games in its two different arcade areas. Visitors can take pleasure in playing pool or air hockey, or both when they are in the arcade zone.
At The Hub, there's a section named Pit Stop where the visitors can find a wide range of stuff to fulfill their appetite. The menu includes a variety of burgers, sandwiches, pizzas, hot dogs, snacks, fries and drinks delightful to both kids and adults.
The Hub is also a perfect place for partying. Whether it is a birthday party or an old friends' get-together, a private dance party or a family reunion, The Hub offers party packages as well as provides the visitors with the option to create their own customized packages. Visitors love The Hub just because it provides what truly means entertainment!
Photo Information: This photo is provided by and given credit to JudithTB – on Flickr.com with permission via Creative Commons Licensing.
Comments