Aug
9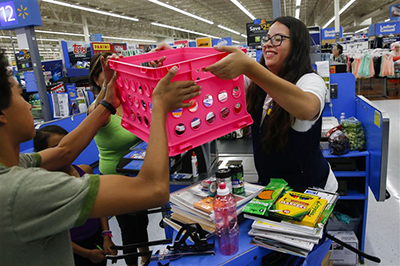 Every year when this time rolls around my daughter gets so excited to go school supply shopping. My son could care less, but my daughter can't wait. As parent we are hoping not to spend a bunch of money on things that will end up thrown around, bent, broken and crumbled within a month or two, but on the other hand, if this is what gets them excited to go back to school, then so be it.
For school supply lists for your school visit: https://www.myschoolsupplylists.com/
In hopes of saving others time and money on their school supply shopping, I wanted to share the best places I've found to be the go to stops for the discount goods.
First stop should be the dollar stores. There are a ton of them out there and they go by different names, Dollar Tree, Dollar General, Family Dollar, etc. These places are discount goldmines for things like pens, pencils, paper, notebooks, folders, glue, tape, etc. You can also find basic calculators and staplers there if you need them.
Second of course would be the monster that is Walmart. Walmart is great for binders, backpacks and larger quantities of things, and if you want a one stop shop…they usually have everything! While a lot of their stuff isn't as cheap as the dollar stores, you'll probably be headed there for something else anyways. Be sure to look for coupons online before you go.
We've become a tech savvy world and our kids are, in many cases, even savvier that we are. Slickdeals is a great site to find deals on just about anything and everything, but I find electronics to be the big money saver here. Whether you are looking for a new laptop or a smart phone, a new app or an online service, they post deals from websites everywhere.
Michaels is a place that is often overlooked because they are a craft store, but they do carry school supplies. If you need some art supplies as well as the traditional school stuff, you might as well give them a shot. They usually have some huge discount coupons online too, just google it.
The office supply stores. Ok, they are not the cheapest out there by any means, but they usually have everything you need and aren't as busy as the more typical school shopping spots. Here is why this made my list, that not too many people know about. If you shop at Staples, they will match prices and then take an additional 10% off of the items. How's that for savings!
Here is a qucik list of honorable mentions:
Target – Hit up their Dollar Spot.
Best Buy – For electronics, ink, etc. They price match too.
Amazon – Great for backpacks if your kid is picky (they have a ton to look at).
Ebay – Hard to find item? Don't want to pay full price? Buy used!
Hollar – Like a dollar store, but online.
Craigslist – Great source for used computers at a super discounted price!
Hope this helps others out! Please share some places that you have found to be great spots for deals on school supplies.
Comments