Oct
11
Winter Recreation in Montana abounds and is one of the many available tourist attractions in the state. Sports enthusiasts come to the area to do cross-country skiing as well as downhill. There are fifteen established downhill ski ranges open to the community.
A few of the municipal locations include: Bear Paw Ski Bowl, Blacktail Mountain, Discovery Basin, Lookout Pass, and Lost Trail. Each location offers an exciting opportunity to individuals and families alike.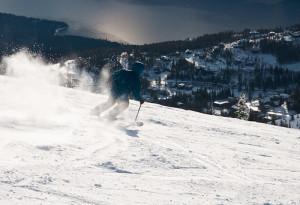 Resorts with overnight stays include Big Sky, Whitefish Mountain, Red Lodge, and Moonlight Basin. Other skiing locations still offer a wonderful time in winter recreation. Plenty of lodging partnerships are available to ensure a wonderful vacation within the area.
The state of Montana also offers endless hours of fun using snow mobiles through trails and the frozen lakes in the cold season. Some trails are non-groomed for those who like an additional challenge, or visitors are welcome to enjoying well maintained trailing. Snowmobiling is another traveler favorite in the area and provides endless times of entertaining in the snow.
Montana offers access to millions of acres of pleasure in the wintertime months. Whether you like to see snowcapped mountains and enjoy a few nights by the fireplace in mountain lodging, or come to exercise and have fun doing winter sports – Montana is a great place to visit!
Photo Information: This photo is provided by and given credit to Slipshod Photog – on Flickr.com with permission via Creative Commons Licensing.
Comments