Aug
15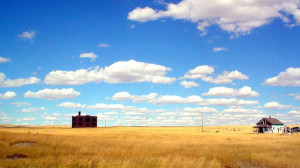 Vananda is a small town located in Montana which began as a station stop in the early 1900s. The station was created as a stop while railroads were constructed through the area. During the 1920s, the town of Vananda, MT consisted of a bank and a schoolhouse in the beginning. The town did see some growth but struggled to exist.
The arid lands of Vananda, Montana were difficult for farmers to grow and harvest on. Three years into the endeavor to create farmlands, the bank closed its doors. The location was turned into a post office which continued to operate for approximately twenty five years. During the early 1980s, the railroad in this area was uninhibited.
Although, Vananda has seen hard times it is listed on the National Register of Historical Places. Visitors to the area can still see the schoolhouse sitting on the hill which provides a promise past for the town's hopeful existence.
Vananda, Montana is located along Highway 12; the town was once considered lost but now is found in the historical beginnings of the state. If you are visiting near Vananda, consider taking some time to view the area and reflect on the historical beginnings of the town.
Have you visited the Vananda area of MT? Where you able to see the schoolhouse which sits on the hill? Please leave your comments here on the Big Sky Blog!
Photo Information: This photo is provided by and given credit to Ins1122 – on Flickr.com with permission via Creative Commons Licensing.
Comments