Jul
1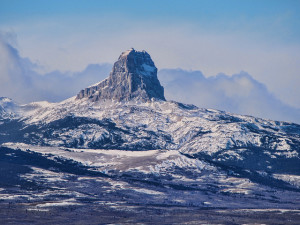 Montana's Old Chief Mountain is known as one of the most prominent rock formations along the Rocky Mountain area. Viewing Chief Mountain is a sight to see when visiting the state of Montana. The elevation of the peak is over nine thousand feet. The prominence is measured at a little over eighteen hundred feet.
Chief Mountain, also known as Old Chief Mountain, is located in Glacier County along the Lewis Range. In 1892, the first ascent was taken by Stimson. Climbing the mountain is the easiest route to take while ascending the rise although the mountain holds poor anchoring points.
This Montana Mountain is also one of the most photographed mountain in the area. This is primarily due to its unique and unusual peak. Upon the creation of the Glacier National Park, the mountain on the eastern slopes were located within the park area.
The Native American consider the mountain to be sacred ground and they have held this view for hundreds of years.  Sweet grass ceremonies and prayer rituals take place at the bottom of the mountain from Native Americans traveling from near and far.
Have you seen the Old Chief Mountain first hand? What were your first impressions on the prominence? We would love to hear your comments here on the Big Sky Blog!
Photo Information: This photo is provided by and given credit to Steve – on Flickr.com with permission via Creative Commons Licensing.
Comments