Oct
7
Montana holds some of the most beautiful Rocky Mountains. The major range stretches more than three thousand miles up into Lower Canada. It has extends down into New Mexico. Its width is anywhere from 70 miles to 300 miles, depending on the location.
The Rockies were formed millions of years ago. Lewis & Clark began explorations of the area along with those exploiting in the search for furs and existing minerals. Today, much of the area is protected as forest lands and open public parks.
The Rocky Mountains of Montana is an extremely popular tourist attraction and the area holds many desirable activities for those who visit. There is hiking available as well as family camping. Many individuals come to mountaineer in the Rockies.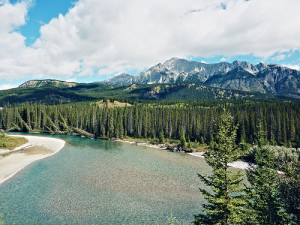 Visitors also take the time to fish in the beauty of surrounding locations. Hunting is also a popular sport within the local territory. Skiing enthusiasts as well as snowboarders love the area and come often.
Wildlife in the Rockies is also another sight to see. The area holds a variety of species including elk, mules, deer, mountain goats, moose, bears, wolves, lynxes, and more. Visitors to the area will also likely see eagles, falcons, swans, and many other wildlife/fish.
No wonder, so many people love to come to the area! It is easy to enjoy life and all the spectacular views seen in the Montana region. The Rocky Mountains hold the highest peaks in beauty and awe in the eyes of those who see.
If you are planning a trip to Montana, be sure to consider taking some time to visit the Rocky Mountains while you are here. It is a lovely way to spend time with the family, or friends, and take in the beauty of the area.
Photo Information: This photo is provided by and given credit to oladybug0 – on Flickr.com with permission via Creative Commons Licensing.
Comments