Sep
30
Glacier National Park is considered one of the greatest ecosystems in the country. The view the location provides is outstanding. This place to visit in Montana is a must for anyone's travel plans. The Glacier provides nearly one million acres of the alpines, roaming bears, and a spectacular scene of nature at its best.
Visitors who see the Glacier National Park in Montana for the first time are left speechless and mesmerized by the beauty it holds. The only way to get into the heart of the park is by taking the Going To The Sun Road. Vehicles can also access other areas such as East Glacier, North Folk, Many Glacier, and Two Medicine.
Opportunities are available to even cross the common lakes by water transportation via historical wooden boat crafts. The beauty and awe of nature holds hundreds and hundreds of miles of hiking glory. Each view from curve to curve offers wonderful photographic opportunities for the new photography to the expert.
Horseback riding is another option available to guests. Trips are available for a single day or more, depending on your needs. For those who prefer, hiking on foot is an available option.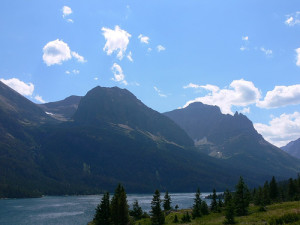 If you enjoy seeing nature in its spectacular beauty, a visit to the Glacier National Park is a must. The wilderness and mountain views are breathtaking. Planning a trip for the day or a week will allow visitors to see this wonderful, natural landscape.
Dining and lodging is also available allowing visitors to take in all they can during their visit. The dining facilities bring another view of history created in Montana. The lodges provide another remarkable experience for all who stay for more time.
Whether individuals and families decide to stay for the day or the week, Glacier National Park is a must see in Montana. This family friendly adventure will create awesome and unforgettable memories for each involved!
Photo Information: This photo is provided by and given credit to jessicafm – on Flickr.com with permission via Creative Commons Licensing.
Comments