Dec
15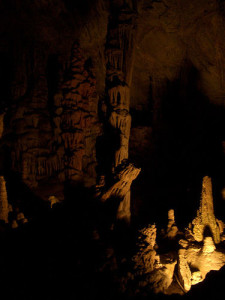 The Lewis & Clark Caverns are offering candle light tours through December 29th. This unique experience is only available during this time of year. Those who originally discovered the caverns did so by candle light and individuals have the chance to experience the caves similar to the original exploration.
The cavern tour is approximately two miles in length. Snowy conditions are possible when walking to the cave. It is recommended to dress warmly for cold temperatures as well as be prepared for snow. Candles are provided for those taking the tour.
Parents are welcome to bring children over the age of five, if they feel the children will be able to handle the darkness and unique experience. Tours will take approximately two hours and are provided at the following times: 9:30 am, 10:15 am, 11:00 am, 11:45 am, 12:30 pm, 1:15 pm, 2:00 pm, and 2:45 pm.
 Coffee, cookies, and hot cocoa are provided at the visitor center. Reservations for the candle light tour are required by calling 406-287-3541 or 406-287-3032. Admission is $15 for adults and $8 for children.
If you are looking for a unique experience which dates back in history, consider taking the Lewis & Clark Candle Light tour with your friends and family. It will be an experience you will not forget!
Photo Information: This photo is provided by and given credit to tofslie – on Flickr.com with permission via Creative Commons Licensing.
Comments