Mar
11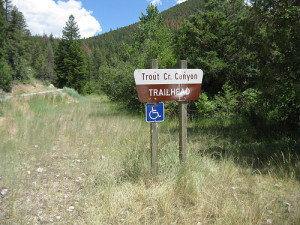 Hikers enjoy traveling the trails of Trout Creek Canyon which is located near York, Montana.  The hiking trails are easily accessible by most visitors in the Helena area. This trail at one time was a road called the Figure Eight Route.
The Trout Creek Canyon is well promoted by the Helena National Forest as a tourist attraction. Development was corrected in the area when the road was once washed out. The area has a spectacular view to those walking the hiking trail.
Hiking is a wonderful way for individuals to get away from the busy life and it is also sure to please families who enjoy the great outdoors together. The trail has been rated online by those who have taken the time to see it and experience it. It holds a five out of five star rating on average.
The Trout Creek Canyon Trail is around six miles in length and elevation is kept to a minimum. The gain of elevation is around 500 feet and the trail is great for a single day hike. This Montana location is great for those with beginning hiking skills as well as those who are more advanced.
Photo Information: This photo is provided by and given credit to rayb777 – on Flickr.com with permission via Creative Commons Licensing.
Comments