Apr
8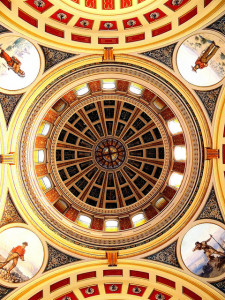 Visitors enjoy seeing Montana's state capital in Helena. The city holds the Montana State Legislature which buildings constructed in the 1800s. The state capitol holds a unique historical emphasis placed on a competition for designing which took place in 1896. The winning architect is known as George Mann. During the time of commission, the original plan was abandoned due to cost.
A new competition was put into place which was won by Charles Bell and John Kent. The new design was used to build the state capitol building in Montana. Mann's design was later used to create the capital building in Arkansas.
Within the MT capital building is the most distinguished feature which is the rotunda with paintings as shown. Within the paintings, viewers will see four significant classics of people in the early history of the state of Montana. These include the Native Americans, explorers, miners, and cowboys.
Visiting Helena Montana provides a historical view of the state as well as the ability to experience the culture. The area is full of beauty and brings many families to see the history which stands from past and present.
Photo Information: This photo is provided by and given credit to Tracy – on Flickr.com with permission via Creative Commons Licensing.
Comments