Aug
25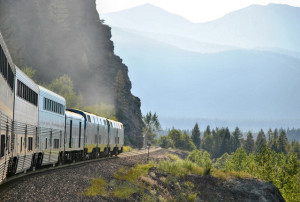 Trails & Rails offers an innovative program through partnership. The National Park Service along with Amtrak provides educational experiences for passengers on the rail. The experience includes providing passengers with an appreciation of culture and the Montana's area of beauty.
Passengers have access to connect through different public lands while learning about the importance of preservation. Educational points are also included regarding how to protect the area of natural resources for the public to enjoy (as well as the wildlife) for years to come.
The Trails & Rails program provides a family friendly as well as an environmentally safe way to travel across northern Montana. Podcasts are also provided on certain train routes within the system. The podcasts serve as a way to enhance the individual's experience while providing guidance for traveling.
Volunteers help make the Trails & Rails program successful and continuous. In 2013, there were over 560 volunteers directly involved with the educational program. These individuals donated over 66,000 hours, while over 470,000 passengers participated. Likewise, over 2,500 programs through Trails & Rails were offered during the year.
Have you participated in the Trails & Rails program while passing through northern Montana? Did you learn about the importance of preservation and protection of MT resources? Did you children enjoy the experience as well? Big Sky Blog would like to hear your comments and suggestions!
Photo Information: This photo is provided by and given credit to Loco Steve – on Flickr.com with permission via Creative Commons Licensing.
Comments