Mar
17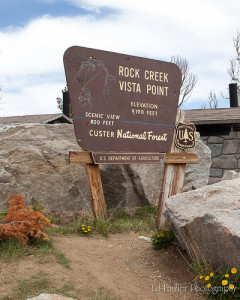 Rock Creek Vista Point in Montana provides visitors with breathtaking views. Beartooth Pass provides views which make one feel like they are on top of the world. This location is one visitors planning vacation in Montana will want to add to their list of travels.
Rock Creek in Montana flows through the Red Lodge. The creek begins in the highest points of the Rocky Mountains known to many as the Beartooth Mountains. Within the area, Yankee Jim discovered deposits of coal in the hills surrounding.
Montana is an area which holds much history and is a real place of beauty. Visitors and tourists rank Rock Creek Vista Point high on their must see places to visit. The area is ranked excellent by many travelers. The beauty of the mountains and landscapes surrounding the area are breathtaking.
Individuals not only see the awesome view of the area, they can see the wildlife and many like to feed the chipmunks who come near to them. Mountain goats are seen nearby grazing in the fields. Hiking is available nearby for those who would like to view the landscape on foot.
During the cooler months of the year in Montana, visitors will see the snowcapped mountains. During the warmer months, visitors will enjoy the changing scenery. No matter what season of the year, visiting Rock Creek Vista Point will provide awesome wonder and an eye pleasing sight.
Have you visited Rock Creek Vista Point? Did you enjoy the view? What time of the year did you visit the area? We would love to hear your thoughts and comments!
Photo Information: This photo is provided by and given credit to EF Photography – on Flickr.com with permission via Creative Commons Licensing.
Comments