Apr
18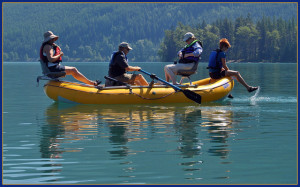 Montana offers a wide variety of activities and adventures for vacation time. There are many different things to see and do across the state. Now is the time to plan your vacation and see all the state has to offer the family!
Montana offers plenty of western adventures for the family. There are ranches which allow the experience of rustling cattle and enjoying the farm life. Wagon trails are available for the family to enjoy. Local rodeos are also a big hit within the state.
Outdoor adventures are nearly endless within MT. Families and individuals can enjoy a host of camping sites, skiing opportunities, boating, fishing, hunting, and other recreational activities.
The wilderness is like no other place within the state of Montana. There are seventeen official wilderness areas of which the family can enjoy. Many of the locations are far from vehicles and bikes making it a nice get away.
There are plenty of activities within the state which are great for those who are single as well as for group adventures. Big Sky Blog offers information on a regular basis about places to visit and things to do in MT!
Photo Information: This photo is provided by and given credit to Loco Steve – on Flickr.com with permission via Creative Commons Licensing.
Comments