Feb
22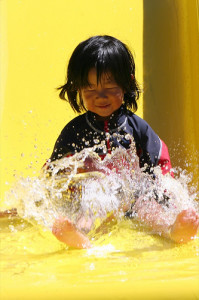 Have you ever thought about surfing in Montana? The Electric City Water Park offers a unique experience to visitors. The location holds one of the few flowing rivers which exist in the United States.
The Electric City Water Park is also a water playground for young children. A very large water play structure exists and the park is located near Great Falls, Montana. If you or your family members also enjoy going down steep water slides, then you will want to visit the water park.
The water park in Montana also has a lazy river for those who enjoy relaxing while floating. This Montana attraction is open during the warmer months of the year, during June, July, and August. The price from admission ranges from $3 to $9. The park is open daily during these months, but the hours may vary on a given day.
Whether you enjoy your hand at surfing, or floating down the lazy river, take some time to check out this Montana Amusement type water park. The Electric City Water Park is located near Central Avenue West in Great Falls, Montana.
Photo Information: This photo is provided by and given credit to dclement007 – on Flickr.com with permission via Creative Commons Licensing.
Comments