Sep
28
O'Fallon Historical Museum is located in Baker, Montana. The museum is owned by Fallon County and the O'Fallon Historical Society operates the Montana attraction.
The museum is located in the old, historical, two story jail house on Main Street. The first sheriff to live in the historical landscape building was Mat Jones. He lived in the jail from 1914 to 1919.
What does the O'Fallon Historical Museum have to offer those who visit? This museum is full of the history of Montana. Here are some of the things visitors can expect to see and learn about:
Indian Artifacts
Fossils
Old historical equipment
Old personal items used in early days
Cars and trucks
World War I and World War II items
Historical collections from Old Montana
And much more!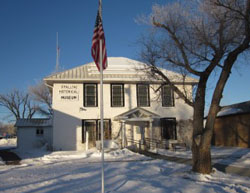 Another great pleasure for photography enthusiasts is Fallon's Photography collection of old cameras, film holders, and other photography equipment. Each piece in the collection was used to take photos and preserve the history of life in Fallon County during the early days.
While visiting the O'Fallon Historical Museum, collectables and history related items are available in the Museum Shop. Items for sale include Montana Books from the O'Fallon Historical Society, souvenirs of fossils, bookmarks, cookbooks, rocks, postcards, and more. T-Shirts are also available in a variety of sizes for family members.
Admission to this Montana Museum is free of charge. For more information, please contact Lora at (406) 778-3265. This family friendly Montana attraction will provide a wonderful cultural experience!
Comments