Mar
9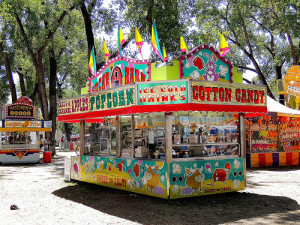 The Montana State Fair will be celebrating its 83rd year during this summer. The state fair in Montana is a great place to take the family to see exhibits, concerts, and enjoy the midway. The fair is scheduled to take place July 25th through August 2nd in Great Falls.
Entertainment during the state fair will include ground acts as well as concerts. Exhibits displayed are competitive and provide a unique experiences to the viewers. Contests will also be taking place during this Montana Event.
Take some time to schedule a trip to Montana during the Montana State Fair. The children will enjoy the atmosphere and participate in the midway carnival rides. Vendors will be present with family friendly state fair foods each member is sure to enjoy.
RV parking is also available on the grounds. Rates for one day with full hook-up are $35 each. If you desire electricity only, the rate is only $30 per day. Dry hook-ups are available for only $25 per day. If you would like to come to the area for a full month, RV parking is available for $435 each month near the fairgrounds.
Plan to attend the Montana State Fair during the summer and enjoy the sounds as well as delicious food smells associated with the time of the year. Montana also has plenty of other opportunities for tourists and family looking for a great place to see.
Photo Information: This photo is provided by and given credit to Tracy Elizabeth – on Flickr.com with permission via Creative Commons Licensing.
Comments