Apr
21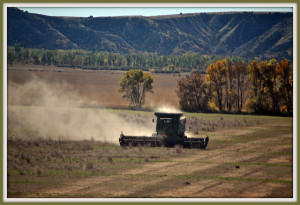 Montana is known for having a strong base in agriculture and business. Ranching and farming provide nearly five percent of the jobs within MT. Another seventeen percent of the population hold jobs related to agriculture. A large percent of MT businesses are family owned and operated.
The two largest commodities in MT are beef and wheat. The state is also home to growing other agricultural products including cherries, sunflowers, sugar beets, hay, barley, and many more. Dairy products are also a strong commodity held within the state of Montana.
Agriculture in MT contributes nearly two and one-half billion dollars back into the economy on a yearly basis. There are several million head of beef cattle and nearly twenty thousand dairy cattle. Swine, horses, poultry, ostriches, sheep, and llamas are also plenty within the state.
Bees are also big business within Montana, as they are the fifth largest state to produce honey. The honey bees produce close to nine million pounds of honey each year for the people. This alone places MT in fifth place for honey production in the US.
Montana is a great place to live as well as visit. Agriculture and business are a strong part of the state's foundation. There are plenty of places to visit and learn more about the history of Montana across the state. If you are interested in learning more about Montana, take a few minutes to bookmark the Big Sky Blog!
Photo Information: This photo is provided by and given credit to Loco Steve – on Flickr.com with permission via Creative Commons Licensing.
Comments