Aug
4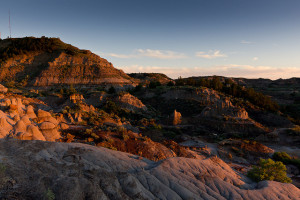 The largest state park in Montana is Makoshika State Park, covering more than eleven thousand acres. The park is located near Glendive, MT and holds spectacular views. The area lands conceal dinosaur fossils including triceratops. The area is also home to birds including eagles, prairie falcons, and turkey vultures.
There are a variety of amenities available within Makoshika State Park. The area provides a wonderful view to visitors which is breathtaking. A visitor center is available which also includes a small museum. The museum offers visitors views of a number of geological displays.
During the warmer months of the year, an amphitheater is used for educational workshops as well as performances. Group shelters are available with a variety of activities. Interestingly, there is also an eighteen hold disc golf course which provides some difficulty and challenges to disc golfers.
Nature trails in Makoshika State Park are also a popular hit among tourists and visitors. Nearby, there are scenic drives which is a photographer's dream. Campgrounds are also available for visitor use. These are just a few of the conveniences available for those visiting MT.
Have you visited Makoshika State Park in Montana? Do you enjoy the view and take time to relax? Would you recommend a visit to others? Please leave your comments on the Big Sky Blog! We would love to hear your thoughts!
Photo Information: This photo is provided by and given credit to Brett Whaley – on Flickr.com with permission via Creative Commons Licensing.
Comments