Jul
3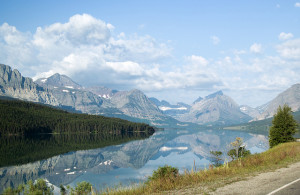 Lake Sherburne is located within the scenic Many Glacier Valley in Montana. The lake area offers many Montana tourists a spectacular view of the mountains mirrored on the waters. This MT lake is not naturally made but is considered a reservoir from waters regulated at Swiftcurrent Creek.
Since Lake Sherburne is a reservoir, the water levels may fluctuate through the year. During the summer months and dry season, the water levels can be low to very low. When the lake is at normal levels, it will stretch a span of approximately three miles.
Fishing is allowed at Lake Sherburne but there are not boat ramps, so those interested in fishing must park road side. Access to the lake is still fairly easy for those interested in the sport. The lake is known for holding trout (brook) and pike (northern).
From a photographic perspective, Lake Sherburne at the right time is a beauty to capture as seen in the photograph provided with this post. Driving scenic tours while visiting in Montana should definitely include this area. Stopping road side is permitted and many visitors take a few minutes to walk to the lake side.
Have you drove through this scenic area in Montana? Did you enjoy the view of the mountains on the waters of the lake? Please leave your comments on Big Sky Blog and let others know of your experience!
Photo Information: This photo is provided by and given credit to Steve – on Flickr.com with permission via Creative Commons Licensing.
Comments