May
21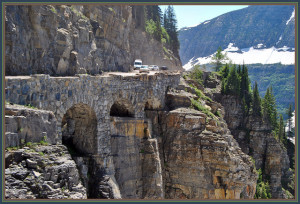 The Glacier National Park brings many things to many people when they come to tour the area. One of the most popular scenes while traveling near is seeing the Triple Arch Bridge. The bridge was built in the 1920s and is very unique to see.
The main attraction is seen along the Going To The Sun Road. The bridge spans over sixty feet and has a large mountain wall behind it. The wall is known to those living nearby in MT as The Garden Wall. The bridge stands twenty feet tall. The Triple Arch Bridge is constructed of concrete which is reinforced for strength.
To those traveling the Going To The Sun Road, this structure is one of the most renowned. The bridge has filled the mountain gap for many years and still remains in service to this day. If you are traveling near Glacier National Park this year, you will not want to miss seeing this structure.
Are you interested in learning more about popular attractions in MT? Please bookmark the Big Sky Blog for more information which is posted on a regular basis. Each blog post includes a pictorial sneak preview of exciting things to see and do!
Photo Information: This photo is provided by and given credit to Loco Steve – on Flickr.com with permission via Creative Commons Licensing.
Comments