May
11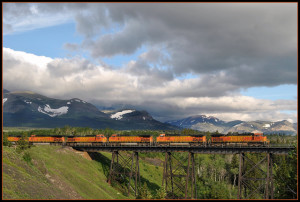 Within the state of Montana, the Northern Transcon railroad route passes through Montana at the East Gate near Glacier National Park. The rail road route begins in Chicago and runs west. The Northern Transcon passes through the area then ascends to the Continental Divide.
The rail road line mostly runs on a double track crossing several high trestles including the Two Medicine. Although the routes have been rerouted several times in history, Montana still historically is part of the line which has been existence since 1892.
Visitors to the area have the opportunity to see the railroad pass through the area near Glacier National Park. Many take photos of the railroad cars as they pass nearby. There are many photographic opportunities for tourists like this one.
The Empire Builder is a popular attraction while many view from nearby. The scene is a spectacular view which includes the rails running through the countryside with mountains all around. Surrounding the area is wildlife and the breath of the great outdoors.
Photo Information: This photo is provided by and given credit to Loco Steve – on Flickr.com with permission via Creative Commons Licensing.
Comments