Feb
14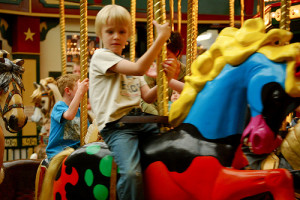 A Carousel for Missoula in Montana is a children and family favorite. This Montana attraction is open year round. During the months of September through May, the hours of operation are from 11 am to 5:30 pm. During the months of June through August, the hours of operation are from 11 am to 7 pm.
Families visiting the area can take their children to ride the carousel for 75 cents (children under 16). Seniors can also enjoy a ride for the same low price. Individuals with disabilities are also welcome to ride for free. Adults who share a seat with a child can ride for $1.50. Adults who are riding alone can do so for only $2.25.
The Carousel offers rides, birthday parties, as well as private rentals. If you family is planning a trip to Missoula this year, take some time to enjoy this family favorite by visiting for a ride, or having a family party.
Montana is a great place for the family as well as individuals. There are many different attractions within the state including museums, parks, theatres, gardens, and walking trails. Montana is a common destination to travelers because there is so much to see and do in this one state.
Photo Information: This photo is provided by and given credit to karendesuyo – on Flickr.com with permission via Creative Commons Licensing.
Comments